On Monday 29 May 2023, starting at 2:00 P.M., at Hall "Nicola Cilento" of University of Salerno¸ the 1st Conclusive Conference of the 1st edition of the Jean Monnet Chair "EUVALWEB" dedicated to Promoting Public Awareness on Enlargement of EU Borders, the Western Balkans' Accession and Respect for EU Values will be held.  The Conference will start with the welcoming addresses by Vincenzo Loia (Rector of the University of Salerno), Prof. Giovanni Sciancalepore (Head of Department of Legal Sciences, University of Salerno), Prof. Francesco Fasolino (President of the Didactic Council of the Department of Legal Sciences, University of Salerno) and Prof. Angela Di Stasi (Director of the Observatory on the European Area of FSJ, University of Salerno, Member of the EUVALWEB  Team Chair) and with the stakeholders' addresses by Dr. Antonio Bonifacio (Director of the Migrantes Office of the Archdiocese of Salerno-Campagna-Acerno and Migrantes Representative for the Campania Episcopal Conference) and by Dr. Andrea Bove (President of the Local Board of Salerno for the European Law Students' Association – ELSA). The Conference, introduced and chaired by Prof. Teresa Russo (Associate Professor of EU Law, Department of Legal Science, University of Salerno, EUVALWEB Chair Holder), will take the form of a debate between UNISA and Erasmus students (Annalisa Pastore and Francesco Verderame, Enlargement and Membership Criteria; Annamaria Provitera and Vincenzo Veldorale, EU Values; Claudia Ciotta and Romeo Marmo, Rule of Law; Giuseppe Landolfi and  Federica Manfredini, European Citizenship and Democratic Principles; Elga Leci and  Andrea Kokomeci, Protection of Fundamental Rights;  Silvia Diana, European Space of Freedom, Security and Justice) and the speakers: Dr. Antonio Parenti (Head of the European Commission Representation in Italy), Prof. Mario Panebianco (Associate Professor of Constitutional Law, Department of Legal Sciences, University of Salerno), Prof. Leonardo Pasquali (Associate Professor of International Law, Member of EUVALWEB Team Chair, Holder of Jean Monnet Chair 'ProSoEULaw Abroad', University of Pisa) and Dr. Fulvio Baldi (Deputy General Prosecutor at the Supreme Court of Cassation, Italy, Member of EUVALWEB Legal Observatory).  This will be followed by a session presenting the research of the Young Observers of the EUVALWEB Legal Observatory of the Department of Legal Sciences of the University of Salerno (Ilaria Boccia, Romano Maria Francesco Carabotta, Sara Chiarello, Arturo Di Florio, Chiara Mainenti and Ludovica Russo).
A discussion session on the results of the Jean Monnet Chair will conclude the Conference.
For further information please see the attached flyer (also in higher resolution at http://euvalweb.euweb.org/wp-content/uploads/2023/05/EUVALWEB-Merged-Flyer-Conclusive-Conference-29-5-2023.pdf)
.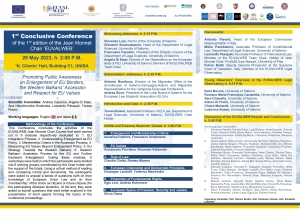 https://euvalweb.euweb.org/wp-content/uploads/2023/05/Draft-Flyer-EUVALWEB-Conclusive-Conference-29-5-2023_page-0001-Copia.jpg
1140
1596
Teresa Russo
http://euvalweb.euweb.org/wp-content/uploads/2022/10/marchio_ue_val.png
Teresa Russo
2023-05-24 08:05:33
2023-05-24 08:05:33
Conclusive Conference of the first edition – 29 May 2023