We are very pleased to launch our first Mid-July Agenda on Planning EUVALWEB Educational, Didactic and Scientific Activities on What Role For Science, Technology and Innovation in Promoting EU Studies?, which as part of the activities of the Jean Monnet Chair EUVALWEB, and specifically of the EUVALWEB Legal Observatory, will host Prof. Heliona Miço, Lecturer of Public Law, Department of Law, University 'EPOKA' of Tirana, Albania.
During the coming week, Prof. Miço, as former Director of Center of Educational Services in Albania, will be associated with all the activities of the EUVALWEB Chair and the Observatory, sharing her experience and expertise in promoting the study of EU law.
An initial meeting, in fact, with the Staff of the Erasmus and International Relations Office of the University of Salerno, scheduled for 11 July, will allow them to discuss the strategies that are being promoted in Albania to strengthen teaching programmes by including European Union law in all disciplines. The aim is to promote and strengthen the reciprocity of exchanges of teachers and students within the framework of the International Credit Mobility Programme.
Also on 11 July, Prof. Miço and Prof. Russo, EUVALWEB Chair Holder, will meet Albanian students who, in mobility at the Department of Legal Sciences of the University of Salerno, are preparing their degree dissertation, which will be discussed for the first time with a multidisciplinary commission, composed of Albanian and Italian professors, on 18 July 2023 at the University of Salerno.
The second appointment, scheduled for 12 July, will aim to promote cultural exchanges between Italy and Albania through a guided visit of the Salerno area, its monuments and activities, in order to explore contextual opportunities for educational and professional training.
The third appointment, set for July 13, will consist of the Planning Meeting on EUVALWEB Scientific Developments, with the participation of the Young Observers of the EUVALWEB Legal Observatory and of Francesco Buonomenna, Associate Professor of European Union law, DSG, UNISA, and Associated Editor of the online Journal EUWEB Legal Essays. Global & International Perspectives, with the aim to share the scientific results achieved in the first edition of the EUVALWEB Jean Monnet Chair which will flow into the publications of nr. 2/2023 of the aforementioned Journal.
We are really proud of all the planned activities and we are looking forward having Prof. Miço at our Department.
Stay tuned for all our updates!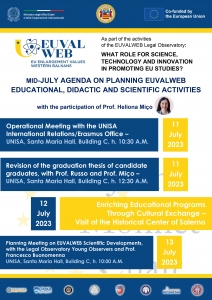 https://euvalweb.euweb.org/wp-content/uploads/2023/07/Cut-img.png
859
1499
Teresa Russo
http://euvalweb.euweb.org/wp-content/uploads/2022/10/marchio_ue_val.png
Teresa Russo
2023-07-09 18:51:08
2023-07-09 18:51:37
Agenda on Planning EUVALWEB Educational, Didactic and Scientific Activities – 11-13 July 2023