On 15 December 2022, the University of Oradea (Romania) hosted an International online Conference of Bachelor, Master and PhD Students in Law entitled "Rights and Freedoms to Be Protected in Post-Modern Society", which involved as co-organizers together with the Department of Legal Sciences, University of Salerno, several other Universities, that is: Faculty of Law, University of Debrecen (Hungary); Faculty of Law, University of Miskolc (Hungary); Faculty of Law, Ivan Franko National University of Lviv (Ukraine); Department of Law, University of Palermo (Italy); Faculty of Law and Politics, University of Reims Champagne-Ardenne (France); Institute of Legal Studies, University of Rzeszow (Poland); Faculty of Law and Political Sciences, University of Szeged (Hungary).
EUVALWEB participated in the person of its Chair Holder, Professor Teresa Russo, as a member of the Scientific Committee and as one of the moderators of the event. In addition, EUVALWEB tutors were selected to participate in the conference as speakers.
Respectively, PhD student Stefano Busillo took part in Session I "Human Rights in the Context of War Menace", with his presentation "Protecting the Environment in Relation to Armed Conflict: A Look at the Principles of the ILC Draft" and PhD student Emanuele Vannata participated in Session III "Human Rights and New Technologies. Opportunity or Threat?", with his presentation "Digital Authoritarianism, Freedom of Expression and Mass Surveillance in the Digital Age. The Case of Iran'.
Thanks to the coordination of Prof. Russo and the support of the two tutors, the work of Elisabetta Lambiase, a recent graduate from the Department of Legal Sciences at the University of Salerno, was also selected for the Call, discussing in Session III a presentation entitled "EU Border Control Mechanisms: Protection or Violation of Human Rights?".
This allows us to broaden the cultural dialogue and provide opportunities for personal and professional training and growth to the youngest.
We would like to thank all our partners of this amazing scientific initiative for the excellent results achieved.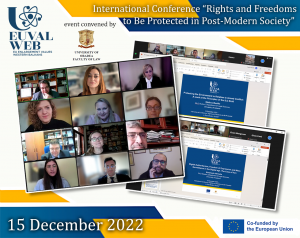 https://euvalweb.euweb.org/wp-content/uploads/2022/12/Collage-15-12-2022.png
1016
1279
Teresa Russo
http://euvalweb.euweb.org/wp-content/uploads/2022/10/marchio_ue_val.png
Teresa Russo
2022-12-16 15:24:53
2023-01-25 10:08:09
Rights and Freedoms to Be Protected in Post-Modern Society (Conference convened by University of Oradea, Romania) – 15 December 2022