On Friday 14 April 2023, starting at 2:30 P.M., at Hall 3 of the Department of Legal Sciences, the fourth Conference of EUVALWEB Law Clinic dedicated to The Protection of Fundamental Rights in the Framework of Mutual Recognition Instruments and the Activities of EU Bodies in Criminal Matters will be held.
The meeting will be chaired and concluded by Prof. Luigi Kalb (Full Professor of Criminal Procedure, Department of Legal Sciences, University of Salerno) and will open with the introductory speech of Prof. Teresa Russo, EUVALWEB Chair Holder. This will be followed by the speeches of Dr. Lorenzo Salazar (Deputy Public Prosecutor at the District Court of Appeal of Naples, Member of the EUVALWEB Team Chair), Prof. Jordan Daci (Dean of the Faculty of Social Sciences, Associate Professor of Constitutional Law and Human Rights Law, Albanian University of Tirana, Albania) and Dr. Valeria Sico (European Public Prosecutor Delegate (EPPO) at the District Prosecutor's Office of Naples).
A Q&A open session will animate the debate.
For further information on the titles of the lectures, please refer to the flyer, also available in higher resolution at: http://euvalweb.euweb.org/wp-content/uploads/2023/04/EUVALWEB-Locandina-Conferenza-14-4-2023.pdf
The Conference is accredited by the Salerno Bar Association for the granting of professional credits and it will be possible to attend both in presence and remotely (Teams platform).
To register and participate: https://euvalweb.euweb.org/ & info@euweb.org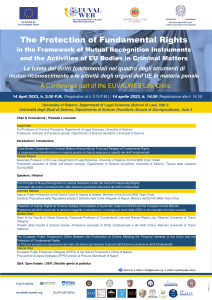 https://euvalweb.euweb.org/wp-content/uploads/2023/04/EUVALWEB-Locandina-Conferenza-14-4-2023-2.png
1244
2336
Teresa Russo
http://euvalweb.euweb.org/wp-content/uploads/2022/10/marchio_ue_val.png
Teresa Russo
2023-04-05 18:15:27
2023-04-05 18:15:27
The Protection of Fundamental Rights in the Framework of Mutual Recognition Instruments and the Activities of EU Bodies in Criminal Matters – 14 April 2023